It is important to know:
All our Australian Mist Queens are carefully assessed and monitored to ensure they are in peak condition prior to 

mating.
We are not planning litters of Australian Mist Kittens
during 2020.  We occasionally have older cats available for adoption to
see the Older Cats tab under Kittens!
As members of the Australian Mist Breed Council and ANCATS Inc., we are responsible breeders and work to produce the original pure pedigree Australian Mist kittens who will complete your home providing fun, laughter and devotion, with predictable behaviours and temperament extraordinaire. All kittens are accompanied by a Pedigree Certificate registering that kitten with ANCATS Inc., which is your guarantee that you are buying a kitten bred from a long traceable line of healthy
pure original pedigree Australian Mist cats.  All kittens are desexed prior to being placed in their new homes and are sold as pet and/or show kittens.
When applying to adopt a kitten from
Megellna Australian Mist Cattery
you will need to be prepared to answer questions about your lifestyle, family members, other pets in your household and also be provided with information about girls vs boys, diet, litter trays and activity levels in your home and lots more about living with
Australian Mist cats.    

Sadly not all homes are suitable for an Australian Mist.  There are some situations which can be less than optimum for an Australian Mist kitten to be housed in.  This doesn't mean that this home will never have an Australian Mist.  Sometimes it is a change of circumstances or a later time which makes that very home ideal for an Australian Mist.
Kittens are assessed as to their suitability for the homes we have on our waiting list.   It is important to us to make sure the kitten we place with our kitten buyers will be happy in the home we have chosen for it.  It is equally as important for us to be confident the kitten will make your house a happy home by ensuring that you have the knowledge needed to nurture your relationship with your Australian Mist kitten.
All Megellna kittens go to their new homes with Vaccinations x 2, Worming x 2, Desexed, Microchipped, 
Pedigree Registered with ANCATS Inc., Kitten Pack and my comprehensive Kitten Care Guide and include
 life-time support for you and your precious new family member.
For information on future litters please see the
Did you know it can be hard to tell the sex of baby animals, particularly kittens.  Sometimes the sex of kittens cannot be reliably decided until kittens are 3-4 weeks of age.
 
  How do we pick our kittens names?  We try very hard to name all our kittens with a distinctly Australian flavour.  Sometimes a place, sometimes someone we know, or someone who is a well known Australian or an Australian icon.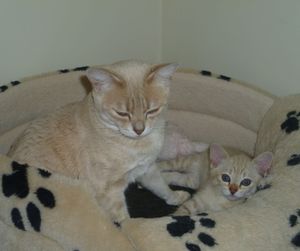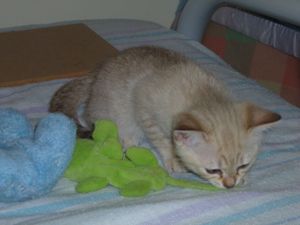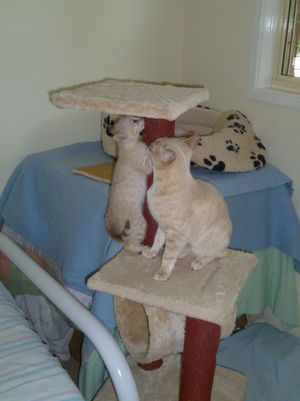 Pixie's Kittens born 16 May 2013