VALE LILLEE
5.7.2012 - 12.4.2023
Our beautiful baby girl Lillee has joined other family members at Rainbow Bridge.
Lillee, named after famous Australian Cricketer Dennis Lillee, will always covet a special place in our hearts.  Such a soft gentle girl, so sadly missed by her Mum and Dad, litter sister Maggie and our AM family, Ellie, Pixie, Brandon and Harry.
Lillee, your insistence on morning cuddles every day before anything else happened, is painfully missed. 
RIP darling girl.
Wait for us at the Bridge.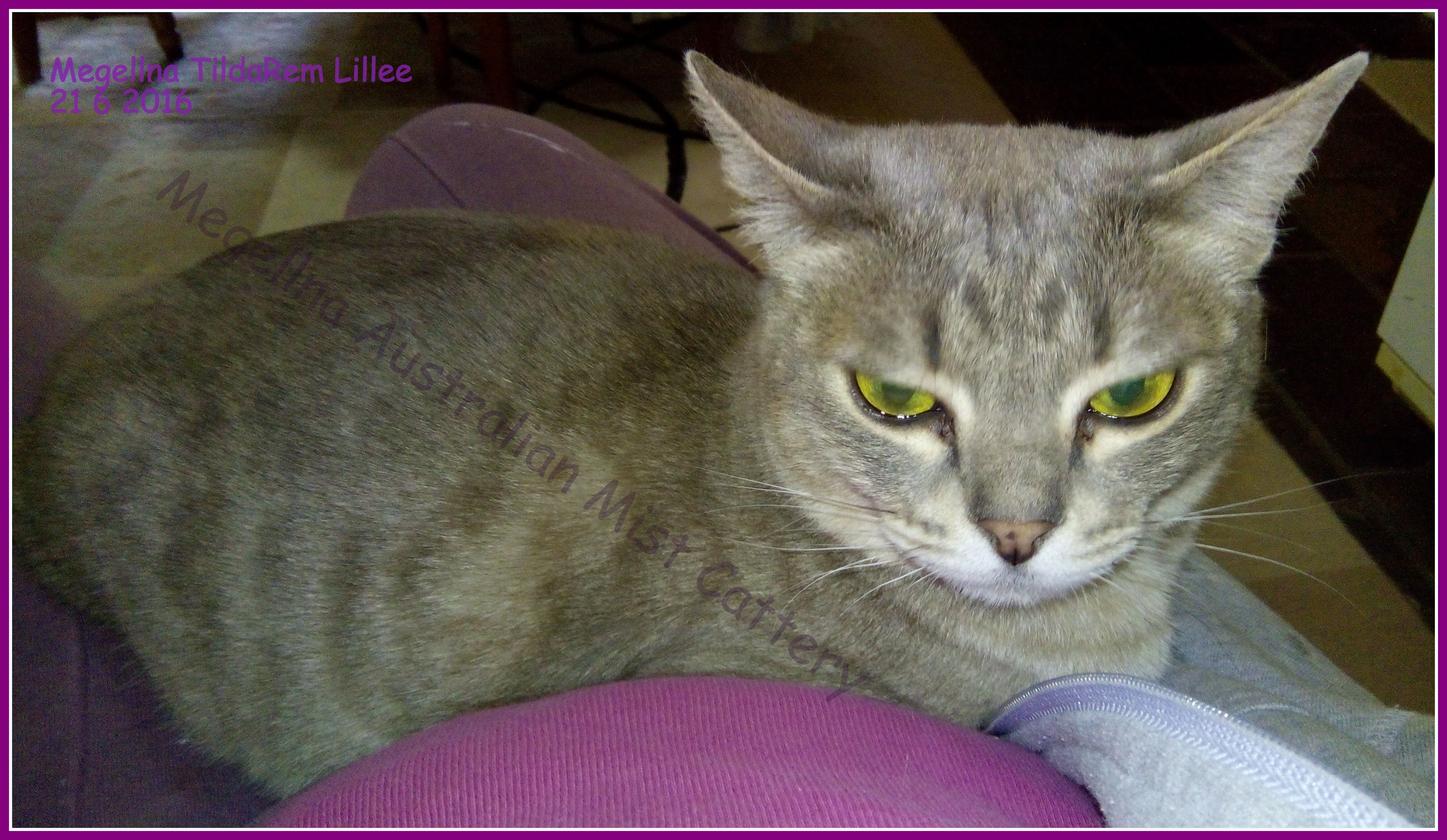 IF YOU ARE LOOKING FOR INFORMATION ON AVAILABILITY OF KITTENS OR ADOPTION OF AUSTRALIAN MIST CATS - please LOOK AT OUR  PLANNED LITTERS PAGE UNDER THAT TAB.

Welcome to our Cattery
As owners of Megellna Australian Mist Cattery we have a long history of animal care and friendship.

We were the first of the "new breed" of boarding kennels setting up Kellaime Park Kennels just outside Albury in 1979. Our home based style of care for cats and dogs was the forerunner to the resort style accommodation which has recently become available in some of Australia's capital cities and regional centres.

Now some 32 years on, we returned to the greater Sydney area to be closer to family. After much research and discussion and looking for a new direction, we decided on the breeding and showing of cats. We investigated a number of breeds but finally settled on Australian Mist cats.  Our plans were specifically for an out of the ordinary way of caring for and breeding cats, that of a residential breeding cattery.  This meant that by having all the cats reside in the house in which we lived, instead of in areas away from or outside our dwelling, we could have them with us, firstly and most importantly (to us) as pets, secondly, for showing or for breeding.  The residential breeding facilities meant we would have much more contact with the cats (as does a normal family cat) and so enable us to monitor their behaviour, health, development and particularly enable the intense socialisation of the kittens we were to breed.

The type of residence which would successfully enable us to do this was hard to come by in the area we had chosen in the greater north of Sydney's coastal villages.  This way of rearing cats and kittens called for a particular set up, both within our house of residence and the secure outside areas which would service the cats external needs. The hunt was on …and on … and on… Some 2 years later we found the property which most closely suited the cats needs. Unfortunately it meant many of our needs had to be sacrificed for the benefit of our feline family!

You are now invited to browse our pages to share with us the journey to our present day activities with our wonderful Australian Mist Breed Cats and Kittens.  Each page has photos and by clicking on each photo you will see an expanded view.